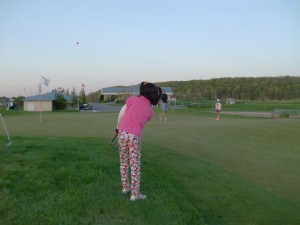 Alissa Xu's Chip-in Eagle Shot
On May 5th, 2013, US Kids Golf Local Tour in Canada was played at Royal Niagara Golf Course. After playing 9-hole, at the group of girl 7 year old and under, Alissa Xu and Vanessa Borovilos has tied of 38 (+2).  so they need to replay the hole 9 as the play-off hole. They also agreed to move the tee back about 10 yards.
Hole 9 par4:110 Yard (Play-off): Alissa had a great drive and it was deadly straight, but stuck in the rough before the green.  She had about 10-12 yards chip from the rough. Vanessa's ball was on the green so she had good chance to make the birdie. Alissa needs a up-n-down to tie the hole. At this moment, the amazing thing occurred, Alissa's ball landed in the hole at the 2nd bounce! So, she had her first chip-in EAGLE ever! -2, EAGLE.
At this moment, everyone was very excited to witness the 7 year old making the chip-in eagle at the play-off hole. One tournament organizer and photographer was there since it was a play-off hole. They were all jumping up-n-down. At the end, the tournament organizer said "Alissa, your chip-in eagle is the highlight of the tournament regardless. Great job!".