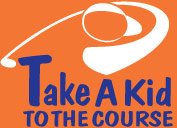 Hundreds Golf Course will offer Kids Golf Free program from July 8th to July 14th, 2013.
What is Take A Kid To The Course?
Developed by the National Golf Course Owners Association Canada to encourage families and juniors to take up the game of golf, this cross-Canada campaign is designed to illustrate how easy it is to improve both your score and your relationship with your children by bringing them out to the golf course.
How can I participate?

HUNDREDS of courses will offer FREE golf to children under the age of 16 who are accompanied by a paying adult during the Take A Kid to the Course program taking place July 8-14, 2013.
In addition to free golf, many courses will offer additional programs such as junior clinics, free range balls, free junior club rentals and parent/child tournaments.
For more detail information, please contact Sarah Allen
National Golf Course Owners Association Canada
Tel: 613-226-3616 ext. 32
Fax: 613-226-4148
Email: sallen@ngcoa.ca
Hope you enjoy the Kids Golf  Free program in July!