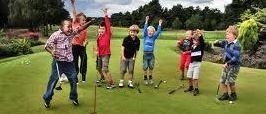 Junior Golf Summer Camp 2013
Looking for junior Golf summer camp? We would like to recommend two summer camps in Peel region:
1. Braeban Golf Course
We like Braeban Golf Academy because of it's excellent location!
Junior Golf Camp:  it will give junior golfers a great opportunity to improve their game through hands on instruction and athletic development. Topics covered: full swing, short game, scoring, fitness, and Rules along with playing the Academy course each day.
Beginner Camp-(Half Day) This great program is for the beginner junior golfer, or any junior looking to learn the game in a fun environment. Ages 6-15yrs old. Lunch, equipment and golf on the 9 hole Executive course are included each day.
Advanced Camp (Half Day) – This great program is for any junior golfer who has previously taken any golf instruction or camps. It is great for the more experienced Junior Golfer, or graduates of the Beginner junior camp. Ages 9-16yrs old. Lunch, equipment and golf on the 9 hole Executive course are included each day.
Half Day- Only $299 per week
8:30am-12:30pm or 12:30pm-4:30pm
Full Day– Only $399 per week
8:30am-4:30pm
2013 Start Dates:
June 17th, June 24th, July 1st, July 8th, July 15th, July 22nd, July 29th, August 5th, August 12th,
August 19th, August 26th
Tel: 905-615-4653.
For more details, please check http://www.mississauga.ca/portal/discover/braebengolfinstruction
2. Piper's Heath Golf Club
Its Junior Golf Camps These camps are designed for introducing young beginner golfers, ages 6-12, to the game and learning the fundamentals.
Through fun and engaging activities kids will learn about the game of golf and the skills that are involved. However it won't be the boring standing on the range hitting balls like the adults do – kids will learn how to create power, control ball flight, learn swing angles with the help of baseball bats, tennis balls, soccer balls, hula hoops and of course: golf clubs.
$349/week, from 9:00am-4:00pm. Tel: 905-864-1730
For more details please check: www.pipersheath.com